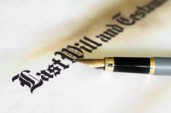 So you think you're going to get all of your spouse's estate if they died without a will?  Think again!  If you have children, then the spouse left would inherit £250,000 and the life interest in the remainder,  and the rest would go to the children.  This can mean that the family house has to be sold, to put the money into Trust for the Children.  At a very stressful time this can be the last issue that any family would need to deal with.
Because of the importance of Wills I  can now take instructions for my clients and arrange your Wills to be written.  We offer a free will diagnosis and can provide you with a report to explain all the options that might be suitable for your situation.
For more information please call me on 01753 626866.
Thanks
Giles Warren
e: info@gileswarren.co.uk web: www.gileswarren.co.uk